— WELCOME TO THE FEUD WIKI —
a collaborative online database for FX's drama anthology series, Feud.
Feud Wiki started on December 21, 2016, and currently has 1 user and 2 admins maintaining 81 articles. We are always hoping for new contributors to help make this wiki as detailed and informative as possible. If you'd like to join our community, feel free to help by creating or editing articles, but before you do so, be sure to read our policies. Thanks, and enjoy!
Today is July 2, 2022, and there are 5,045 edits on this wiki.
— ABOUT THE SHOW —
"Feuds are never about hate; feuds are about pain."
FEUD: Bette and Joan, the first installment of the new FX anthology series from Ryan Murphy, tells the story of the legendary rivalry between Joan Crawford (Jessica Lange) and Bette Davis (Susan Sarandon) during their collaboration on the Academy Award®-nominated thriller What Ever Happened to Baby Jane?, and well after the cameras stopped rolling. The series explores how the two women endured ageism, sexism, and misogyny while struggling to hang on to success and fame in the twilight of their careers.
— FEATURED VIDEOS —
— HELPING OUT —
Our goal at Feud Wiki is to collaborate with other fans in order to build an accurate database detailing the characters and storylines of the drama anthology series Feud. All are welcome to join in and contribute here, as long as edits are constructive, discussions are positive, and all information is relevant to the series.

We are currently housing 81 articles and 1,436 files and have a growing community of 1 user. To join our community, please sign up to create a FREE personal account, or log in if you already have one.

If you're new to Wikia, please use the above links to get started.
If you're experienced with editing, you can use the box below to contribute a Feud related article: <createbox>width=30</createbox>

If you're looking to help with cleanup, you can start here:
— AIRING —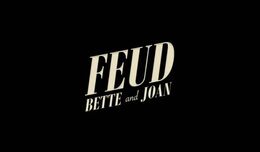 "All This Time" will air in April 23, 2017 22:00:00 EST